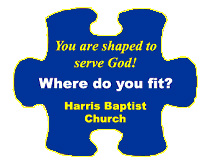 We believe that every Christian is a minister, therefore every christian has a
place to serve.

P.L.A.C.E. is a process which helps believers to find their place in ministry.
Through using self-discovery tools, participants learn how God has made each
person unique, and designed each Christian to serve Him in a particular place.

We learn:

P - Personality Type
L - Leaning your Spiritual Gifts
A - Abilities Awareness
C - Connecting Passion with Ministry
E - Experiences of Life

By putting all of these peices together, we can discover what ministry God has designed us for, and how we can be more fulfilled in ministry.


---