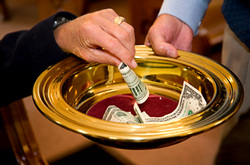 For your convenience, we provide you the opportunity to give online. You may make a one-time donation without registering.
If you would like to donate again please register and it will make it easier the next time you want to give, and it will allow you to set up automatic donations. To register click on "View Donor Portal" below, and it will take you to a secure site for making online contributions. You will need to have cookies enabled on your browser to use the site.

Thank you for supporting God's work at HBC.

---
You can also "Text-to-give".

Simply text the amount you would like to donate to 864-207-4272. You will be prompted to visit a secure website for a quick, one-time registration.
If you want to give to a specific fund, text the word "funds". You will be sent a list of funds. Then text the amount and the fund name. For example: "$10 building"