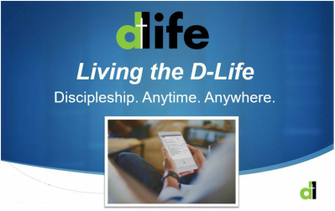 D-Life SMALL GROUP DISCIPLESHIPD-Life is
an intentional, and simple process for equipping all believers for a life of discipleship. It's not a program; it's a lifestyle. Jesus commanded us to make disciples (Matthew 28:18-20), and in D-Life Groups we don't study ABOUT being & making disciples, we learn by living the life of a disciple.
Our groups of 3-8 people can meet any time and any place (homes, restaurants, workplaces, etc) that best suits the group members.

If you are interested in being in a group, contact the church office and we can get you involved.
If you need to sign up to access the small group material, follow this link
http://livingthedlife.com/self-signup/?code=5890de58a1deb
How to use the D-Life "app"
http://livingthedlife.com/using-the-d-life-web-app-its-easy/​
---